Published by: August 14, 2019 10:59 am
Updated: August 14, 2019 10:59 am
Published by: August 14, 2019 10:59 AM
Last updated: August 14, 2019 10:59 AM
WhatsApp has introduced a new feature called Fingerprint Lock to protect the private conversations of its users.
Whats up is widely used around the world. India is one of WhatsApp's biggest markets. WhatsApp processors, which has around 1.5 billion subscribers, are used by two crore people in India.
In this case, WhatsApp is adding some strategies to suit its users' needs.
Along with that, it has introduced a special fingerprint entry into WhatsApp to secure user-friendly conversations.
The announcement of the feature released last January is currently being implemented in the Android Beta version. The 2.19.221 beta version is available on cell phones.
How to use
If you go to the privacy section of WhatsApp's Settings option, you will get a fingerprint lock. Clicking on it will tell you the user's fingerprint. Doing so will cause Watts to lockup. It has the additional option of being locked immediately or not for a specified period of time.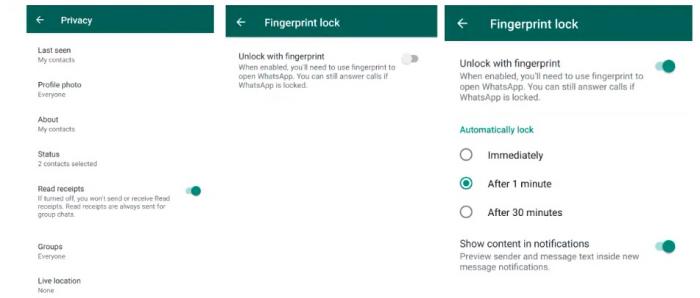 You need to unlock using fingerprint to open WhatsApp again. WhatsApp hopes it will protect user privacy.